Premium Quality Typography
Iconic One is a premium quality WordPress theme with pixel perfect typography that is pleasing to the eyes. It offers a great combo of presentation and functionality in a neat package.
Proper SEO
Iconic One implements proper SEO so that your content will rank high and is compatible with AIOSEO and Yoast SEO. It uses H1 tags for posts and page titles and doesn't use headings in sidebar so that you can creatively use headings in your articles.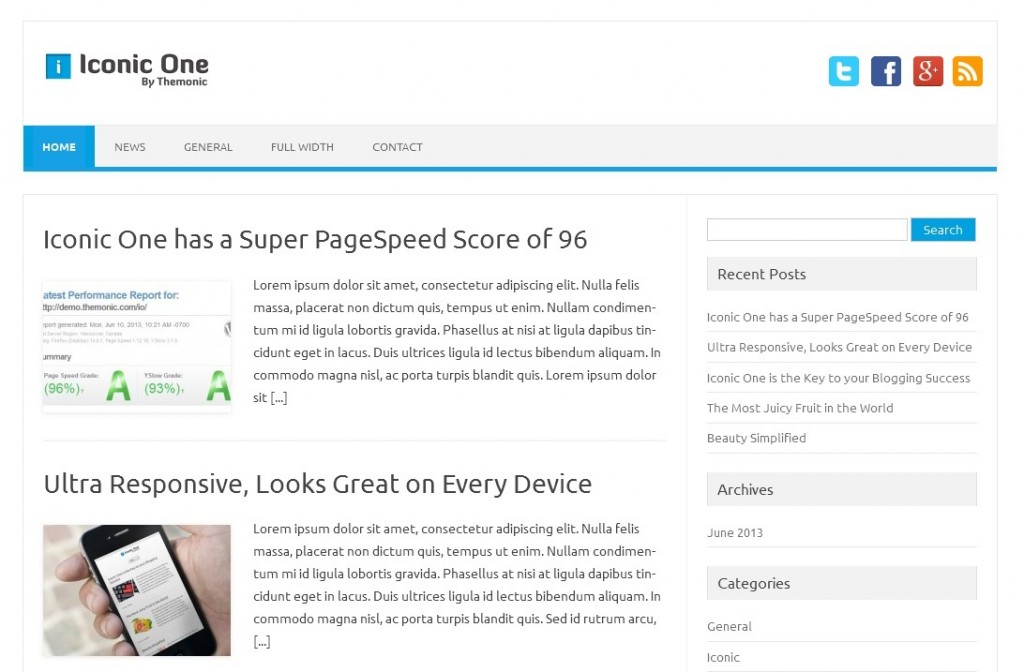 Superior Responsiveness
Iconic One utilizes latest HTML 5, CSS3 for creating the awesomeness that looks great on every browser. It adapts to screen size on different devices be it mobile, tablets or desktop and is future ready. Check out the demo on different devices to get the feel of it.
Easy to Customize
Use the Live Customizer  to change the logo image, social bookmarks, background color, footer copyright etc., you don't have to touch any code or login to ftp for the most needed customizations. Sidebar is Widget ready for easy configuration.
Super Fast with Great PageSpeed Score
Built to be exceptionally fast with PageSpeed score of 95+,  your visitors will be able to enjoy your content without waiting.
FAQs
Current latest version is 1.4.7 | Last Updated on November 15, 2015
Q )  Menu on mobile devices does not appear/ Menu not working on iPad?

A)   Select your menu as Primary Menu by going to Appearance -> Menus. If your blog is brand new then create a new menu and assign it as primary menu.
Q )  What are the Logo size requirement?

A)   You can easily try uploading logos of different sizes via live customizer, bigger logos are also supported. Logo of 187 x 54 pixel dimensions is used in the demo.
Q )  Homepage images are not showing?

A)   You have to set a featured image in your posts for the home page images to work. If you are switching from another theme, regenerate your thumbnails using a free plugin "Regenerate Thumbnails".
Q )  How to change "Custom Text Right" in the Footer?

A)   This setting is present in Live Customizer, go to Appearance -> Customize -> Footer. Here you can edit both left and right custom footer text.
Q ) Theme Settings are not saving in Live customizer? Logo save not working?

A)   Simply Disable all plugins, change Theme Settings and then Enable plugins again.
Changelog
Iconic One WordPress Responsive Theme is under active development, find the changelog below:
————– November 2015 —————-
11/15/15  – Iconic One Version 1.4.7
* Updated Scripts
* Fixed Jetpack Top Posts Widget styling issue.
* Minor style improvements
————– July 2015 —————-
07/02/15  – Iconic One Version 1.4.6
* Improved Right to Left Language support
————– April 2015 —————-
04/04/15  – Iconic One Version 1.4.5
* Translations: Regenerated .pot file with missing translations
* Improved comments: Comments content will now start below the user instead of on the right
————– January 2015 —————-
01/07/15 – Iconic One Version 1.4.4
* Made Excerpt Read More pluggable for child themes, you can now change read more text in a child theme
* Removed sidebar active menu bg color
* Added sanitization to the customizer functions (for improved security)
————– August 2014 —————-
08/10/14  – Iconic One Version 1.4.3
* Added Read More button after excerpts
* Code improvements
* Selective Social icons, Social icons will now hide if URL left empty
————– May 2014 —————-
05/03/14  – Iconic One Version 1.4.2
* Made excerpt thumbnail function pluggable, can now be overridden in child themes
* Small sidebar width adjustment to fit 300px Advertisements
————– April 2014 —————-
04/15/14  – Version 1.4.1
* Added support for Jetpack popular post widget
* Minor CSS style changes
* Search widget improvement
04/04/14  – Version 1.4
* Removed stray span tag from content.php
* Removed background color of <ins> tag, no more yellow background behind ads
* Link color in posts is blue now instead of black
* Home page title is now <H2> as per popular request, no change in single post pages
* Added link to theme page where FAQs are being maintained
————– December 2013 —————-
12/14/13  – Version 1.3.1
* Changed tag to fuild layout as per WordPress 3.8
* Small CSS bug fixes
12/14/13  – Version 1.3
* Theme start page made compatible with WordPress 3.8
* Footer Fix for large text in the footer boxes
* Logo responsiveness fix in case of big logos
* Header area fixes in mobile view
* Better and wide mobile menu
* Much improved display compatibility on Internet Explorer, based on user feedback
* Updated start page with pro version details
————– August 2013 —————-
08/27/13  – Version 1.2.3
* Minor Header Logo text and description style changes, can be seen when logo is yet to be uploaded.
* Removed the extra @custom.css import from style.css
* Added iconic-one.pot file in /language folder for worldwide translation with a mini tutorial in the same folder.
* Removed the weird looking active page background color from the sidebar
08/18/13  – Version 1.2.1.2
* Better styling for below title meta.
* Removed current page highlight from the sidebar.
08/02/13  -  Version 1.2.1.1
* Minor Search bar responsiveness margin fix at width below 1040px.
* Tested with WordPress version 3.6.
————– JULY 2013 —————-
07/30/13  – Version 1.2.1
* Urgent update due to extra </div> in the footer from the last update 1.2, it broke the footer completely.
* Replaced Category with pages in sidebar if no widgets are defined.
07/30/13  -  Version 1.2
* Header width now Auto – Big Logos won't break the header.
* Removed left-right border from sidebar elements.
* Better looking sidebar search bar.
* Sidebar will now show nice looking search bar, recent posts, categories and tag cloud if no widgets are defined.
* Added live customizer link in the Appearance menu for ease of access.
* Minor Options page style change.
07/28/13  – Version 1.1.2.1
* The Responsive Menu no longer requires setup, Iconic One menu responsiveness will now work automagically.
* Nav menu <li> improvement, removed the background color for child hover.
* Changelog.txt is now included.
07/24/13 – Version 1.1.1
* Minor menu style changes.
07/13/13 – Version 1.1
* Initial public release!
User Reviews
Check out what our happy users are saying:
Very sharp looking, and incredibly intuitive navigation menu to setup the theme. The navigation menu makes setup fast and simple. Not something I have seen before with free themes. – By   jhazani

A really decent theme, easy to setup, customize and does what it says on the tin.
Nice work! – By Warren

I don't usually leave reviews for templates but I felt I had to tell the creators well done for there excellent work. Perfectly designed, Easy to use, Great SEO and prompt helpful support. Top Marks! – By Hitksolutions

Probably one of the best free themes out there, not because of its features but because of the simplicity and effectiveness! Also a nice base for child themes! – Bychristoschiotis

Awesome Theme. The support is excellent. Great Job! – By Moshyi
You can find the above reviews and even more of our happy users at: http://wordpress.org/support/view/theme-reviews/iconic-one
Iconic One has just crossed 200,000 downloads, totally with the word of mouth recommendations.
Download it now to see how it can help you by increasing traffic and revenue.